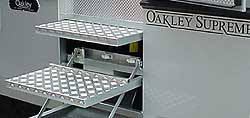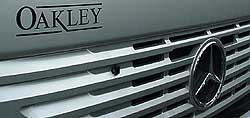 A Thoroughbred Tradition
An Oakley Horse box is a true thoroughbred. Each is a singular achievement of traditional skills and modern production techniques, unique in its bespoke attributes, designed and tailor-made to accommodate the individual customer's precise requirements. And yet every one shares a proud tradition spanning over 60 years of painstaking craftsmanship; part of a pedigree which is unmatched worldwide for quality strength, style, comfort and innovation.
Whether you choose the very latest streamlined, state of the art "Supremacy or Supreme" vehicle, the uncompromised quality of the materials and workmanship is immediately apparent. To the eye. And to the touch. Virtually every detail, every panel, and almost all the fixtures and fittings right down to the hinges and catches on the doors have been manufactured on site by our own experienced, highly skilled craftsmen. Even the leather upholstery has been fashioned in-house from meticulously selected hides!
Step inside an Oakley Horse box and you can feel its superior solidity in the satisfying clunk of a flush fitting door, in the ingenious use of space and the zealous attention to every last detail. And, like everything that's the very best of its kind, an Oakley horse Box is a valuable investment you'll appreciate for years to come – an investment in the safety security, comfort and convenience of you, your horses, their grooms and your guests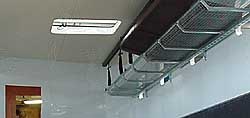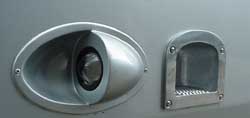 Masters of the Coachbuilder's Art
Because every customer has different requirements we believe that bespoke is best – consequently we can build to any specification on almost any chassis cab. And while we maintain the time-honoured coachbuilding skills of the traditional Mahogany Ash vehicles, it is the light, hard-wearing and streamlined metal body that appeals most to today's discerning customers. Housing anything from two to Fourteen horses, with or without luxurious living quarters, these are hand-built with aluminium panels on a light alloy frame, avoiding the weight and corrosion potential of steel in the interests of durability and increased payload, except for reinforcing the all-important ramp area, where stainless steel is used. For the utmost comfort and minimum noise, both floor, roof and wall panels are fully insulated, keeping you and your horses cool in summer and warm in winter.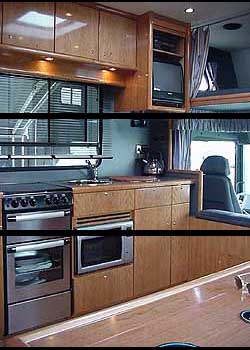 The Ultimate in comfort for you and your guests
We pride ourselves on the ingenuity with which we put the smallest space to work, so you can expect all the comforts of home in an Oakley Horse Box!
No two vehicles are made exactly the same but, generally speaking, dishwashers, washer / dryers, microwave oven, DVD surround sound system, air-conditioning, Sky Plasma Television systems and mains electricity from an internal push button start generator can all be fitted.
Other usual amenities include the refrigerator / freezers, cooker and hob, hot and cold running water, ample wardrobe and cupboard space, but there's almost no limit to the additional luxuries you may choose to include! In any event you can be sure that every furnishing and fitting is sumptuously appointed and elegantly designed to provide luxurious sleeping accommodation as well as a comfortable space in which to relax and entertain.
The driver's cabin, for example, is integral with the living area for ease of access and communication to horses as well as passengers, while the fully fitted shower room ensures that it's not only the horses that are immaculately groomed throughout the show!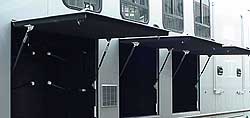 The Finish
Whether it's achieved by the steady hand of the old fashioned signwriter or the refined touch of the modern paint sprayer you'll find that the finish on your vehicle is second to none. The modern metal bodies, in particular, can be coachpainted in any colour and to any design, so you can be sure that your investment really is in a class of its own. And, regardless of where your horses finish, an Oakley horse Box shows you've arrived, making every event a real occasion.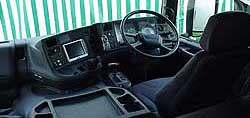 The care a thoroughbred deserves – Oakley Aftersales Customer Care
Invest in an Oakley Horse Box and you forge a long lasting relationship with an organisation committed to customer service. Your vehicle has been built to last and, to assist you in keeping it in prime condition, we offer a comprehensive range of support services.
Because virtually all our parts are manufactured on-site, we're able to offer next-day delivery in most cases, to produce specific items to your own specification and to make available a wide range of extras and accessories.
No-one knows your vehicle more intimately than us. There's no-one better qualified, therefore, to carry out every service and repair operation you could ever need. Call upon us for routine and major engine or bodywork servicing, interior and exterior refurbishment, accident and insurance work and M.O.T. preparation.
You'll find we can offer nationwide collection and delivery, work on-site or at your premises and – for routine operations – provide a same day service. Naturally our highly skilled supremely well-informed staff are always on hand to help in any way they can with general advice and while-you-wait estimates for repair, servicing and insurance – since they have had a hand in its creation, you'll find they're as proud of your vehicle as you are!
Location
Oakley Coachbuilders Ltd
High Cross
Ware
Hertfordshire
SG11 1AD
Opening Hours
Mon: 8:30am - 5:30pm
Tue: 8:30am - 5:30pm
Wed: 8:30am - 5:30pm
Thur: 8:30am - 5:30pm
Fri: 8:30am - 5:30pm
Sat: 8:30am - 12:30pm
Sun: Closed