SUPERSPORT CHEST BAR 3 SEATER
"The Supersport utilises innovative lightweight technology, combined with style, craftsmanship & attention to detail."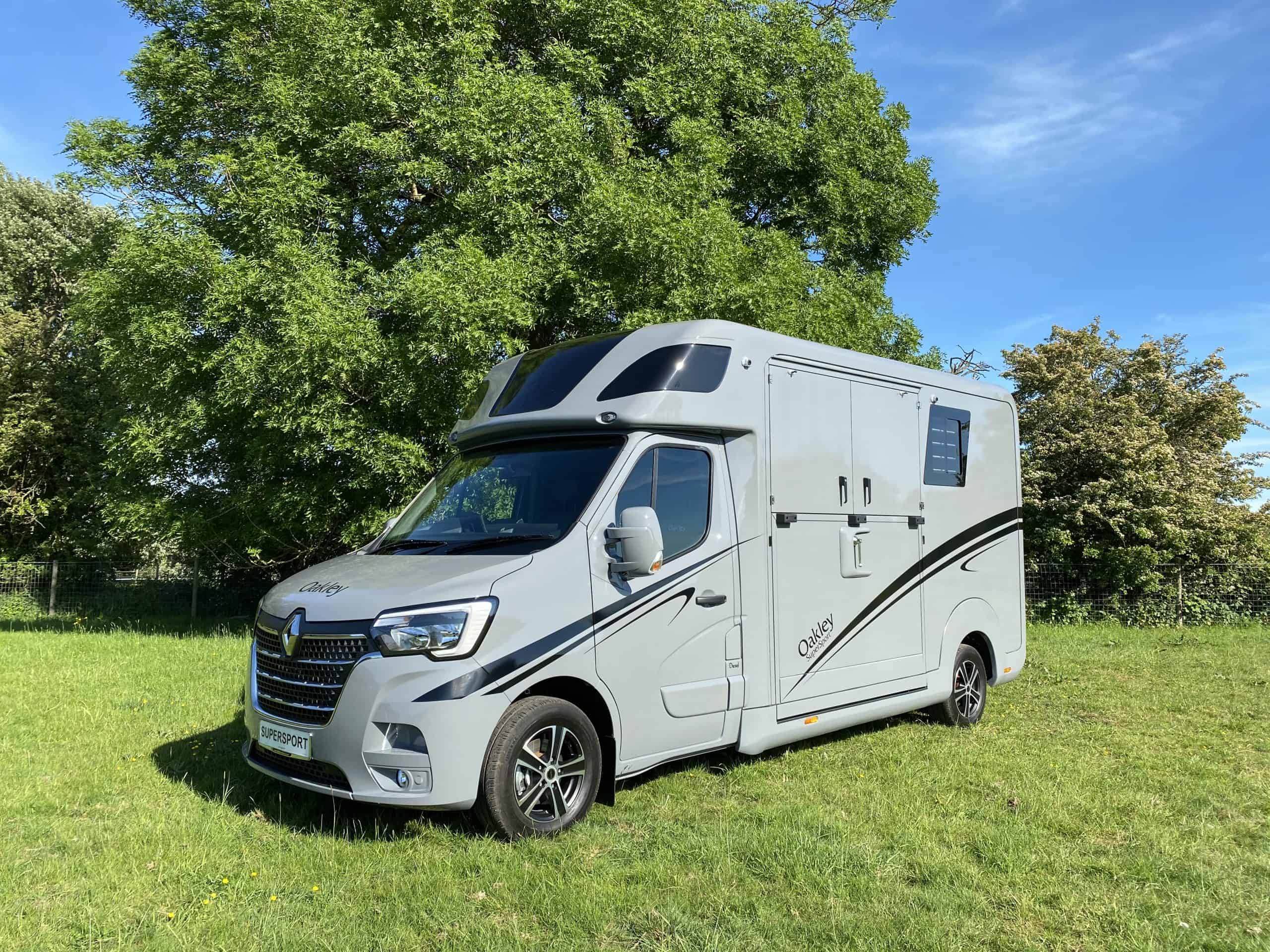 The New Oakley 3 seater stallion Supersport is available as a 3 seater cabin. Your horses safety is paramount to us that's why the stallion / penned stalls are all fully removed.
The innovative design allows for a large full width single pen stall, 2 single horse penned stalls or herringbone large single pen stall. So your horse is equally as comfortable as you are during their journey.
The 3 seater stallion Supersport is mounted on the all new Renault Master chassis. It is equipped with many exclusive options as standard to bring greater comfort, efficiency and  safety to the driver at the wheel throughout their working day.
Standard Equipment includes; Chassis Air Conditioning. USB media Port, European Satellite navigation  Bluetooth phone connection Electric windows, electric and heated mirrors Tow bar with electrics (giving a G.T.W of 6,000 kg)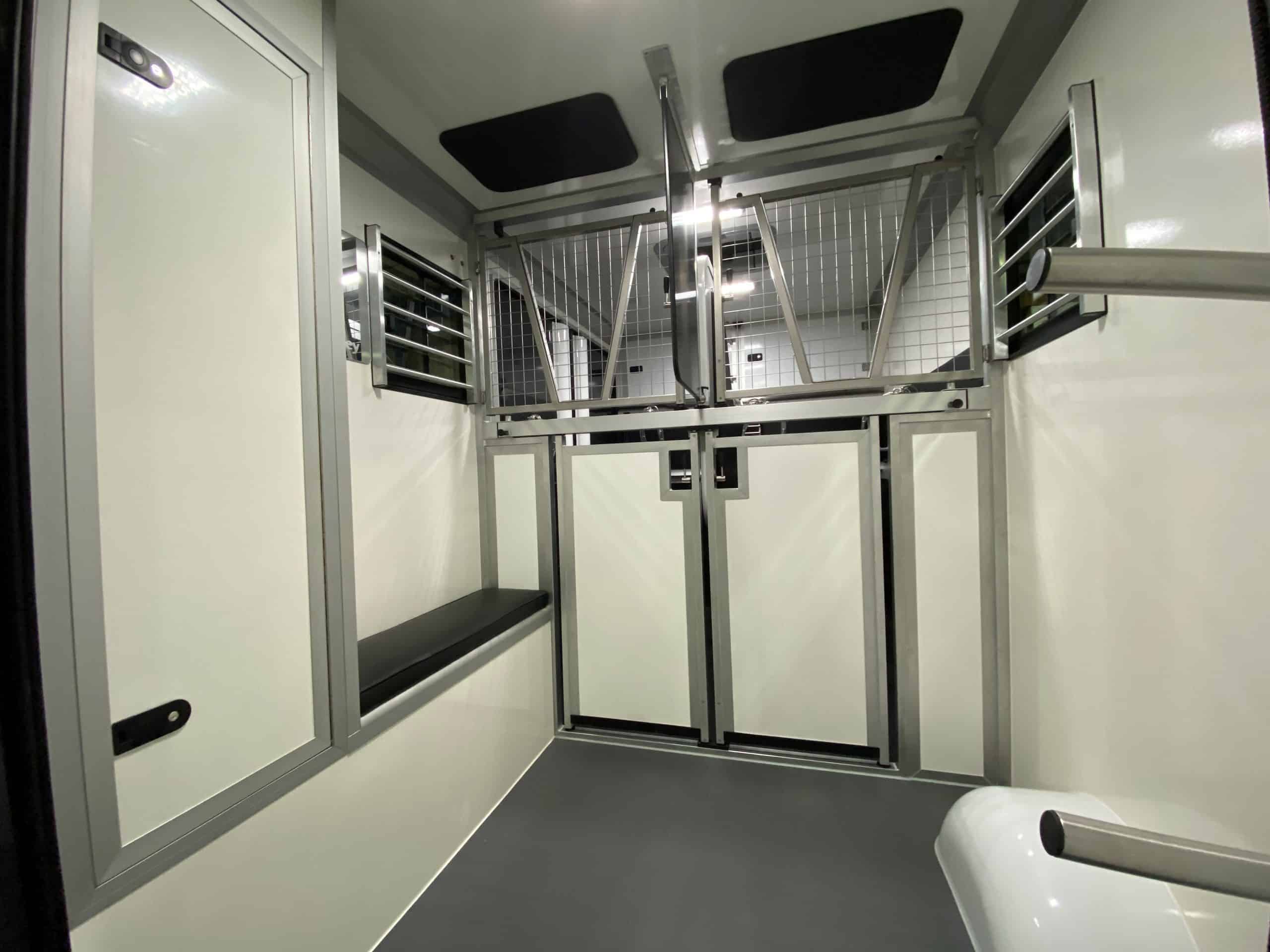 Supersport 3.5T (Option to upgrade to 3.9T)
Spacious, light and strong the new Oakley Supersport. Its innovative design is all about the spacious horse and cab area that sets new benchmarks for the horsebox market.
Throughout the new Supersport, we've maximised the horse area and storage space, incorporating expanses of the beautiful design to emphasise its sleek lines.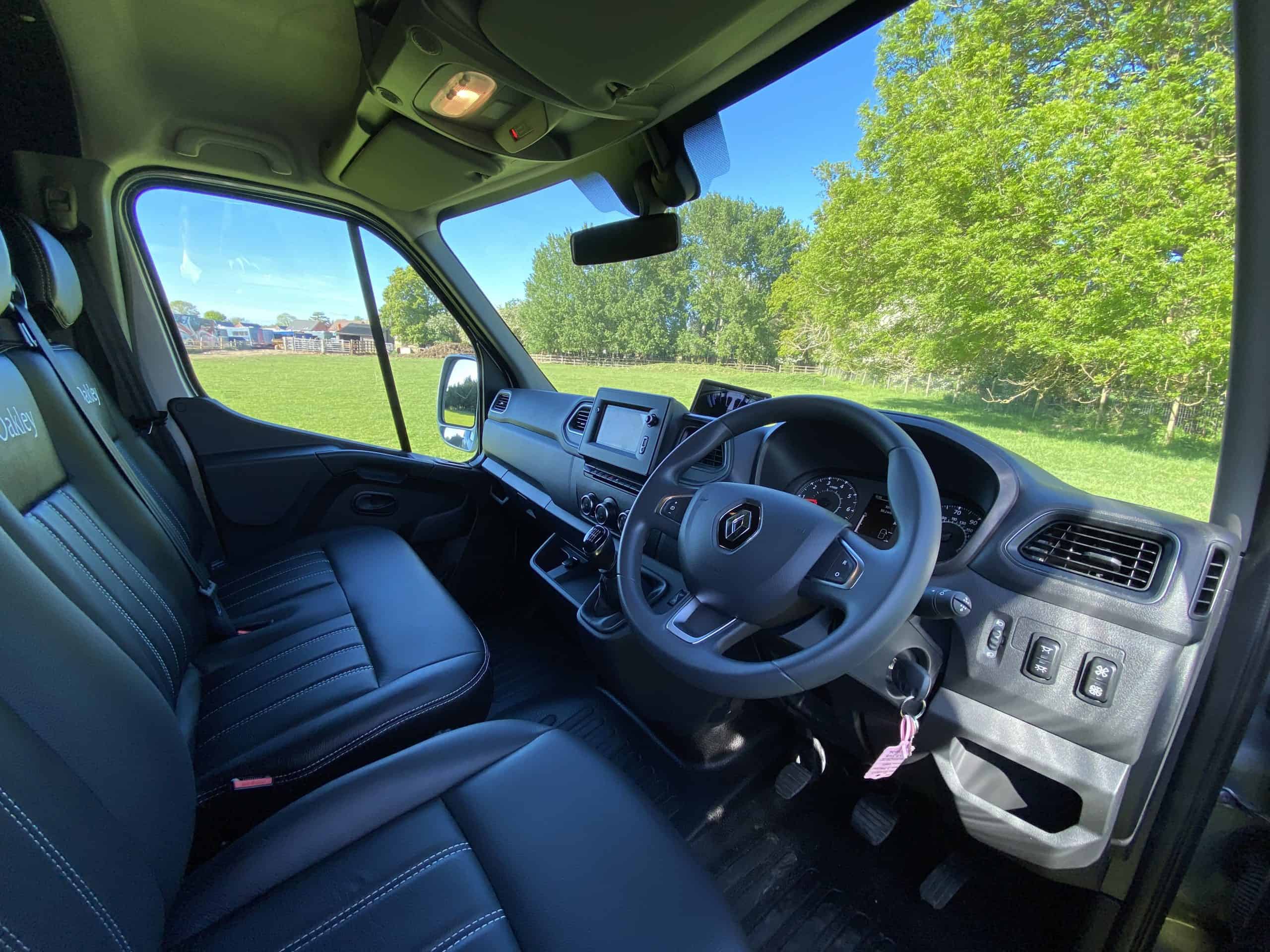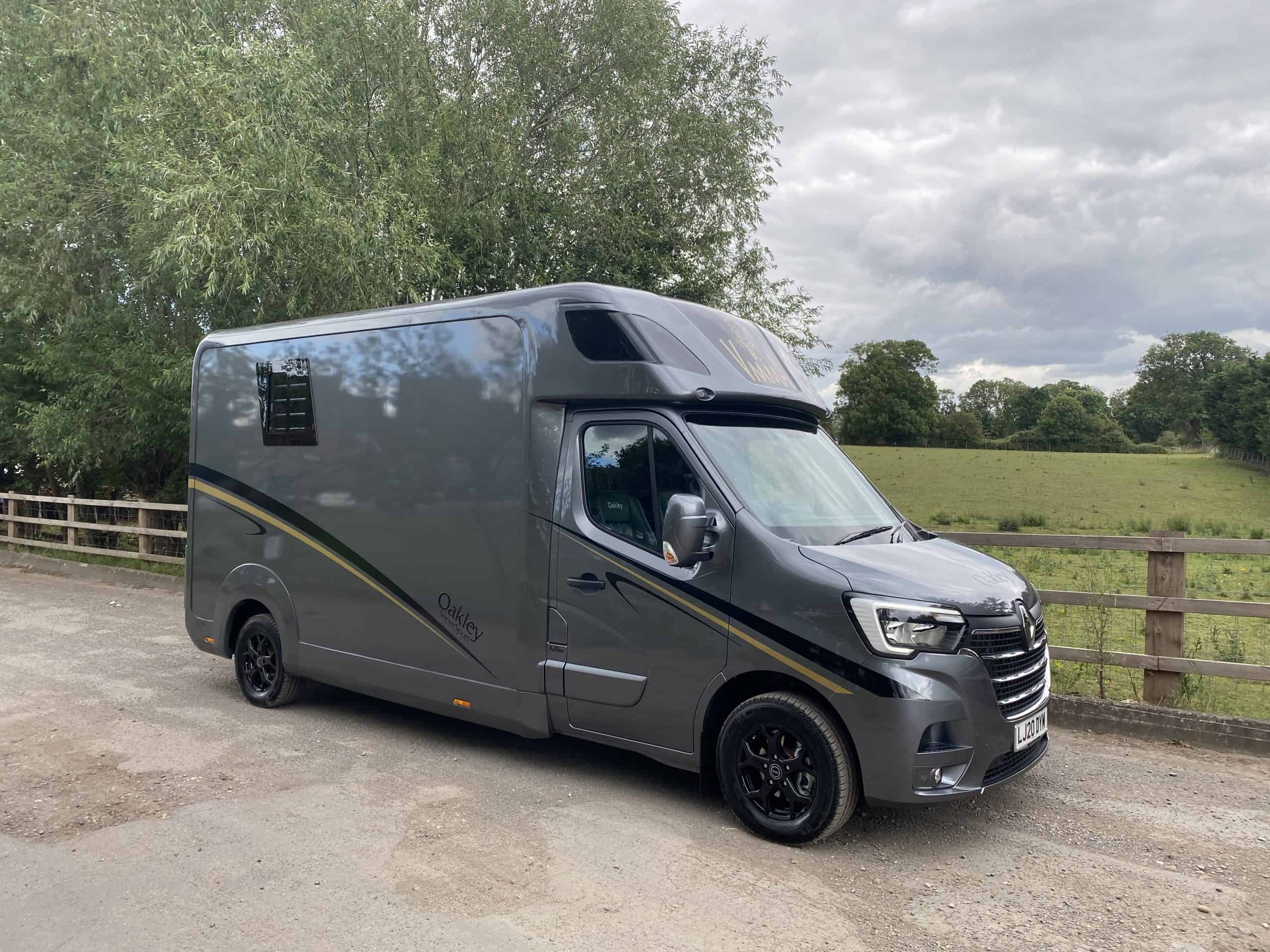 Leather seats with 'Oakley' Stitched into head rest. Horse Area Light weight strong rubber flooring, Minimum rear wheel arches protrusion, Electric 2 way fan, Blue travelling LED lights, Bright loading LED lights, Barn style doors, 1m wide emergency rear exit door, Opening roof vent and Storage above cab via 2 lockable doors.
A PERFECT BLEND OF DESIGN, TECHNOLOGY, STYLE, CRAFTSMANSHIP & ATTENTION TO DETAIL.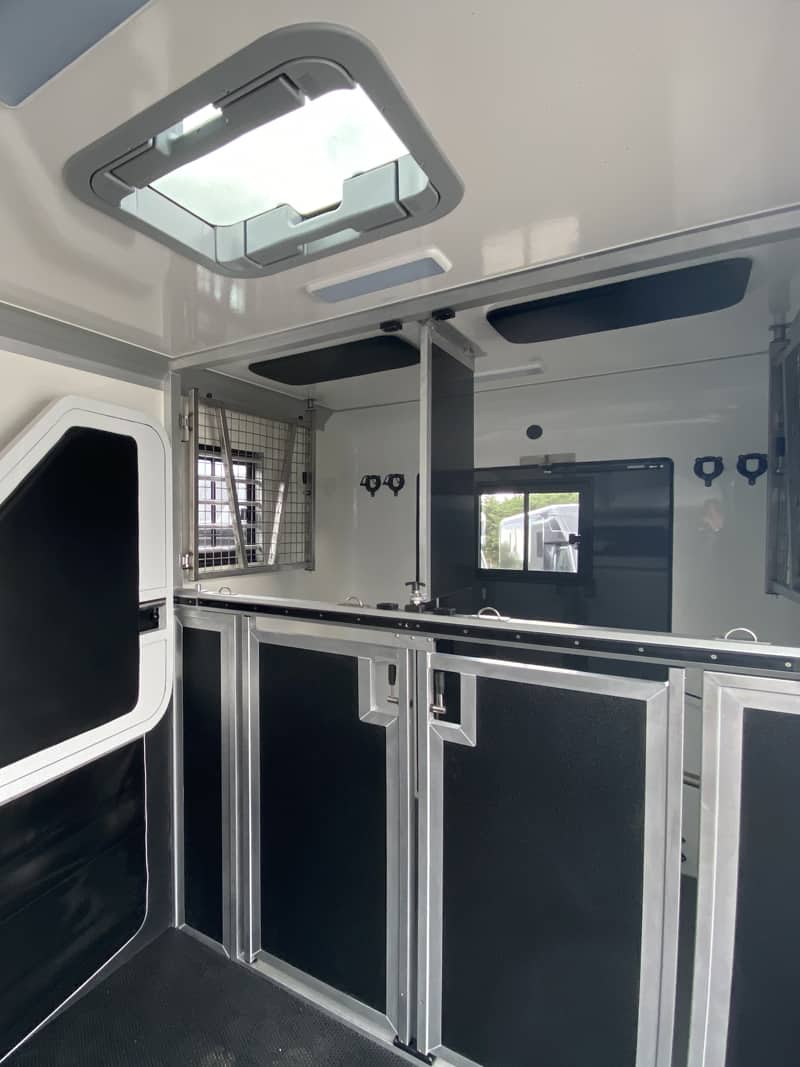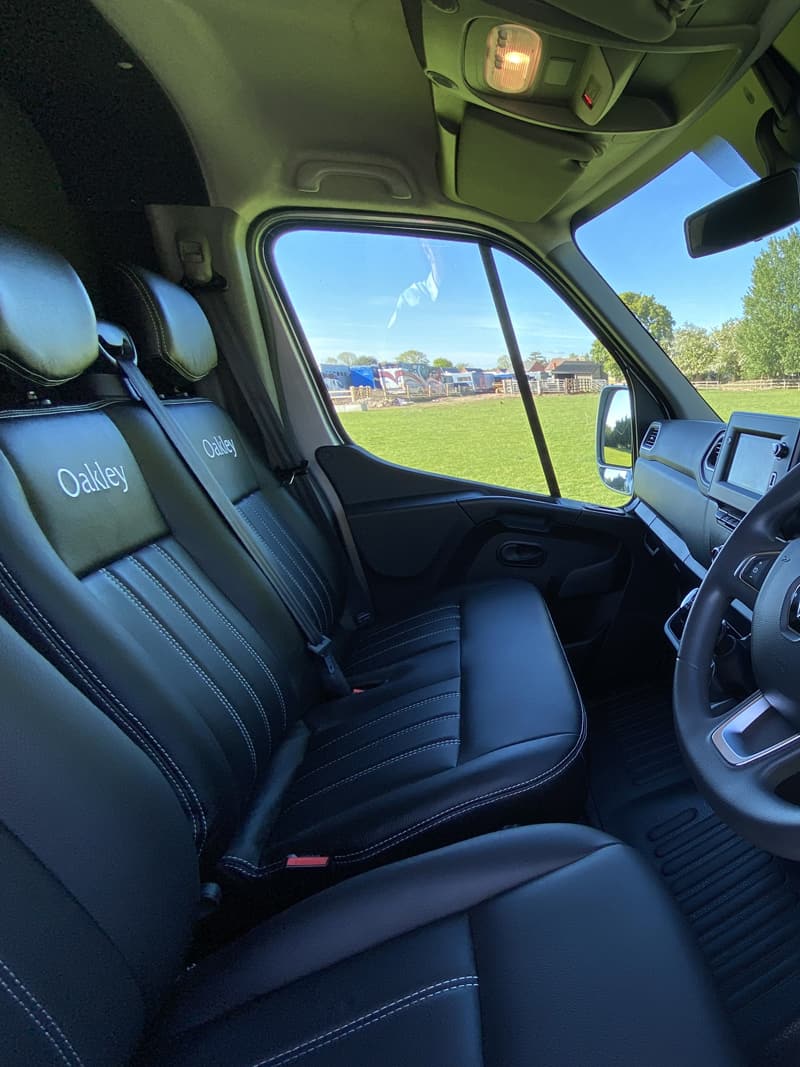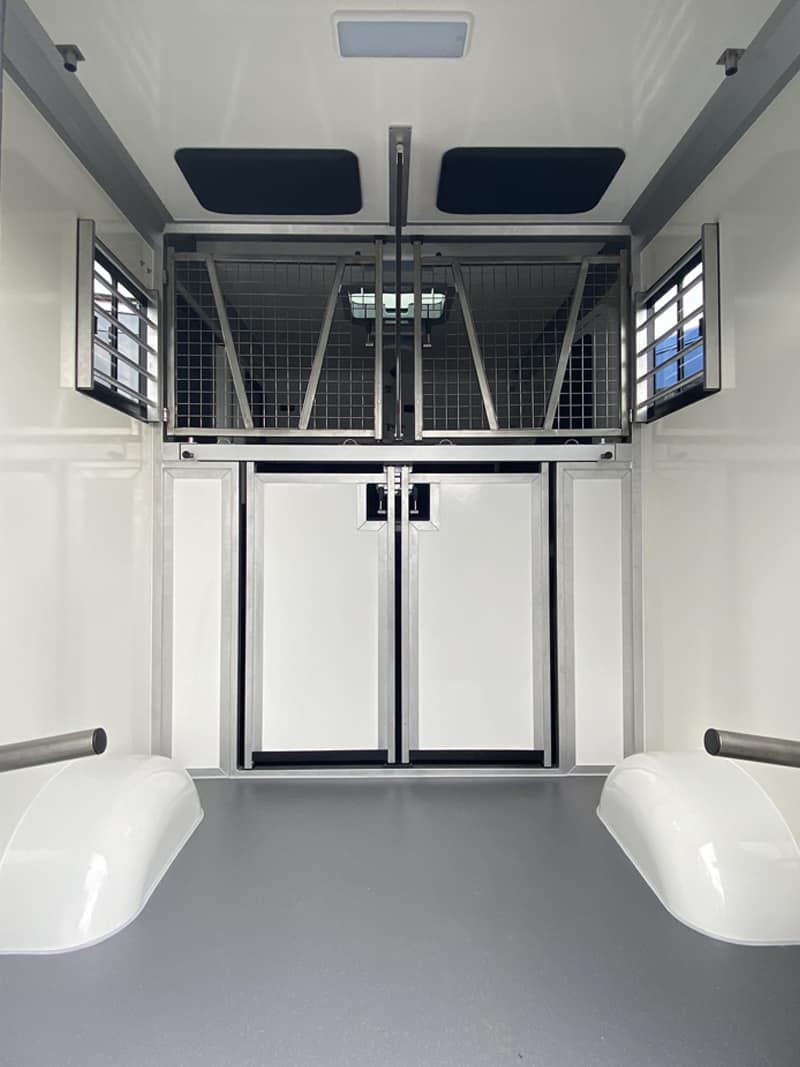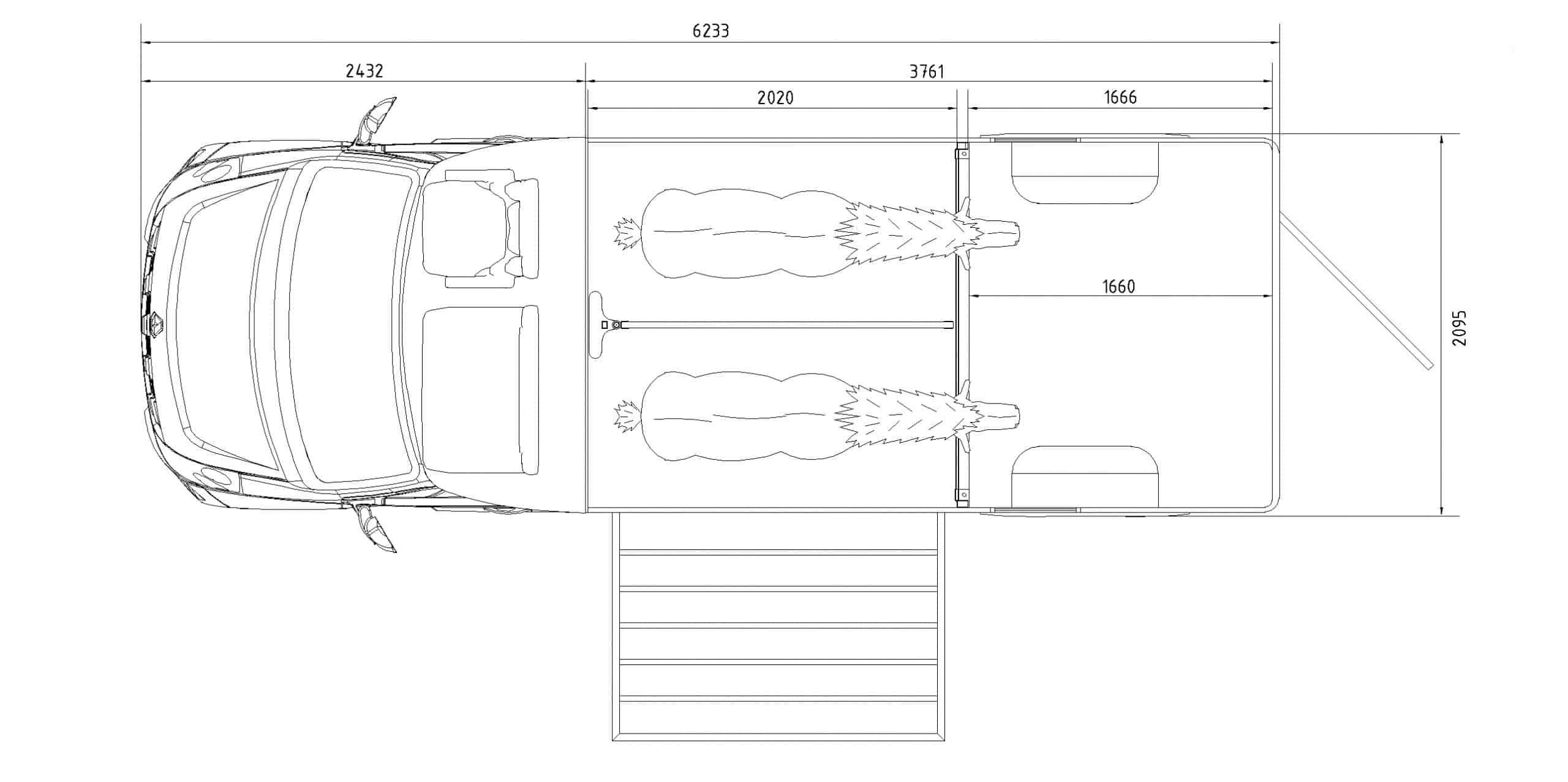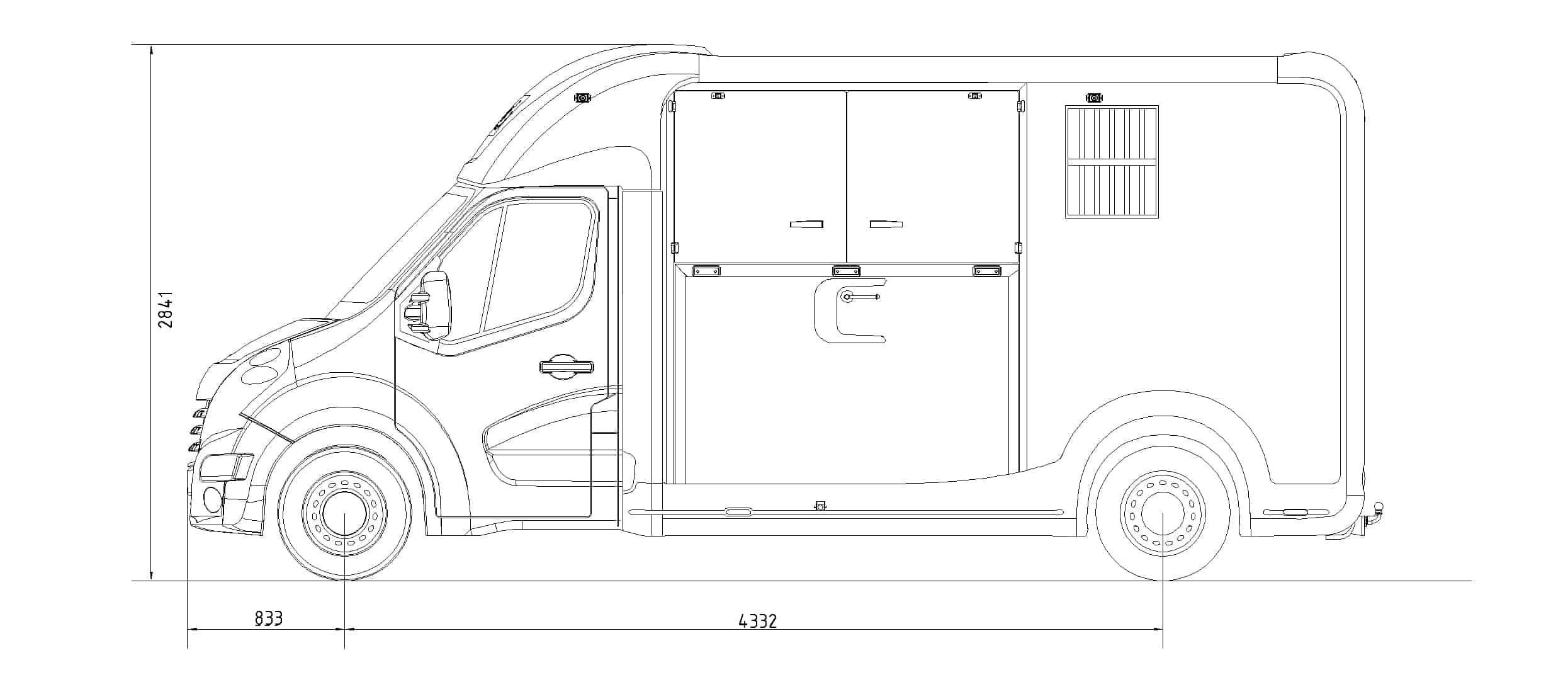 Supersport 3.5T (Option to upgrade to 3.9T)
 GENERAL SPEC:
Oakley Super Sport 2 Stall Horsebox
Chest Bar rearward facing stalled model
Stainless steel opening weaving grills with inserts
3 seater cab
Storage area above cab with 2 lockable doors
Tack / saddle area to rear
2 way Extractor fan / Heavy duty roof vent
Side ramp
Opening out doors above ramp
Large rear door access (Emergency Exit)
Storage locker with near/offside access locker doors
LED lighting throughout
Blue LED Night travel lighting
Reverse / horse area cameras
Bonded frameless opening windows
Renault Master 165-180bhp (Euro 6)
6 speed "Quick Shift" Automatic gearbox / Manual gearbox
Media pack to cab inc Sat Nav / Bluetooth / DAB radio
Air conditioning to cab
Black leather seats to cab
3,500 kgs G.V.W.
Rear 50mm tow bar and electrics
High Gloss Metallic paintwork
Colour coded bumpers/wing mirrors
Safety framed bulkhead with heavy duty aluminium planking
The Supersport utilises innovative lightweight technology, combined with style, craftsmanship & attention to detail.
Renault Master 180bhp (Euro 6CI)
132 kW (180 hp) – 400 Nm Twin turbo
Diesel fueled / Ad Blue Euro 6 CI DCI 2.3 Engine
3,500 kgs G.V.W.
Approx Combined Fuel consumption 35.3 MPG / 7.5L / 100Km
Start / stop engine technology
6 speed Automatic gearbox
Cruise control
Electric windows
Central locking with remote
Electrically operated mirrors and de-icers
Media pack to cab inc Sat Nav / Bluetooth / DAB radio
Air conditioning to cab
Black leather seats to cab
Drivers air bag
Front driving lights to bumper
Daytime running lights
Automatic headlight and windscreen wiper activation
ABS + ASR + ESP + Extended grip + Side Wind Assist*
Traction control
Rear 50mm tow bar and electrics
High Gloss Metallic paintwork
Colour coded bumpers/wing mirrors
Oakley Super Sport 2 Stall Horsebox
Chest Bar rearward facing stalled model
Stainless steel opening weaving grills with inserts
Aluminum / Stainless steel fittings throughout
Fully adjustable padded sliding aluminum / stainless steel partition (3 positions)
Removable aluminum chest bar
Opening doors underneath chest bar to each stall  
Storage area bove cab with 2 lockable doors
Tie and hay net rings throughout
Heavy duty 3-way opening roof vent
2-way extractor fan
Opening bonded frameless window throughout
Tack / saddle area to rear
X2 saddle racks and bridle hooks
X4 drain points to horse area and tack area all sealable
2 way Extractor fan / Heavy duty roof vent
Side ramp with heavy duty rubber matting and integrated slats
Quick release strap to ramp aperture
1 piece heavy duty rubber matting to floor
Opening out doors above ramp
Large rear door access (Emergency Exit)
LED lighting throughout
Blue LED Night travel lighting
Window to back of cab with stainless steel protective bars
Padding throughout
Head pads to ceiling
Rubber strap to retain partition in open position
Enquire About this Vehicle