"The Supremacy has elegant spaciousness and style, highlighting the evolution of the design and construction."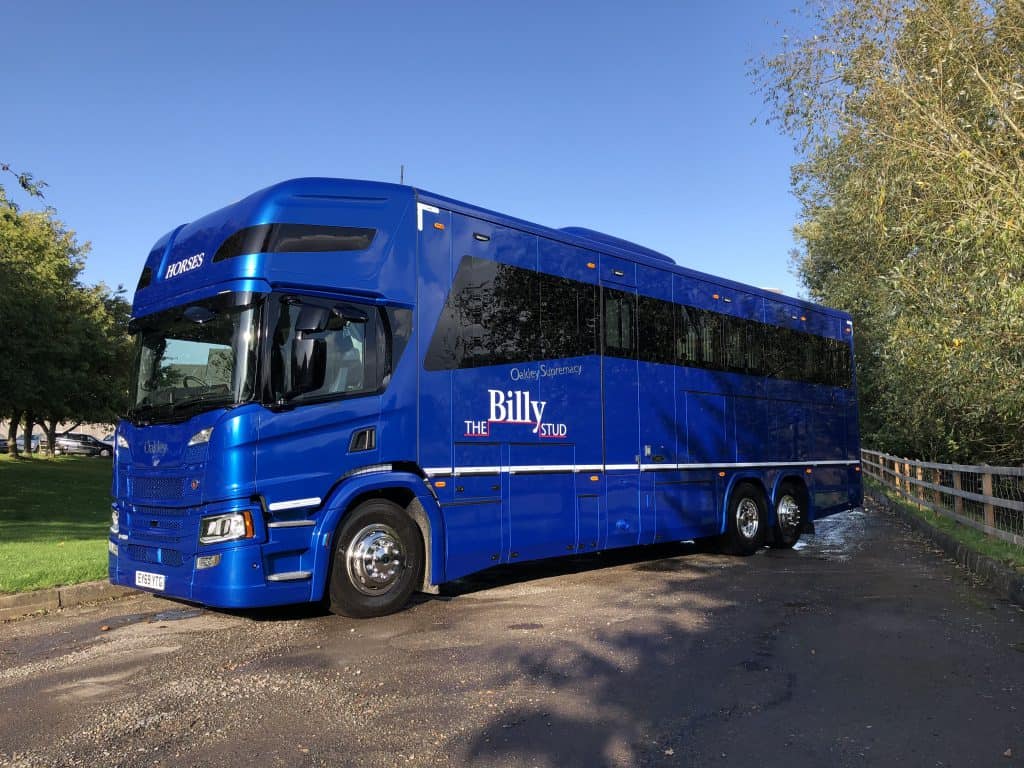 Teamed with the finest leather of your choice the upholstered seating area offers an unbridled place from which to lavish the exclusive living area.
Beautiful veneers give the endeavour an unmistakable high quality feel with a contemporary style that conveys refined elegance and pure beauty, showcasing the impeccable craftsmanship that is used to create every Oakley.
For maximum habitability the bathroom has been designed to include the amenities that you find at home. With a fully functioning shower unit, sink, toilet and an abundance of storage making use of every space available.
The Supremacy offers a spa like oasis to freshen up on even the longest of days. Standard guest configuration is for 6 guests, with scope for up to 10 to be accommodated depending upon layout chosen.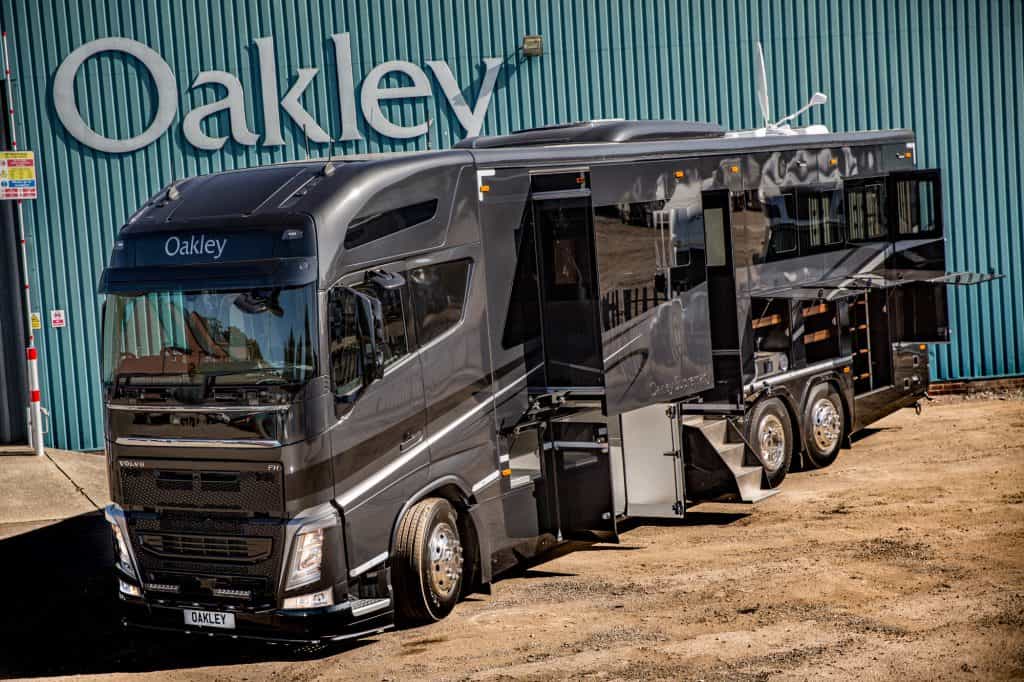 The Oakley Supremacy follows the brand's iconic design and offers exceptional space and volume throughout. The opulent interior and exterior spaces can be styled to each owner's unique taste via Oakley's renowned 'Bespoke' service.
The theme throughout is one of space and flexibility, maximising volume and providing compelling features to enhance enjoyment throughout. Many of these features are unique to Oakley's and only associated with our Supremacy range. Such as the option to have 4 slide out sides to create an incredible space for relaxing or entertaining.
Inside you'll find aesthetics that match the experience. The interior boasts innovative technical solutions throughout, expertly upholstered seats and exquisite furniture handcrafted by our professional cabinet makers, turning every sheet of high quality timber into a work of art.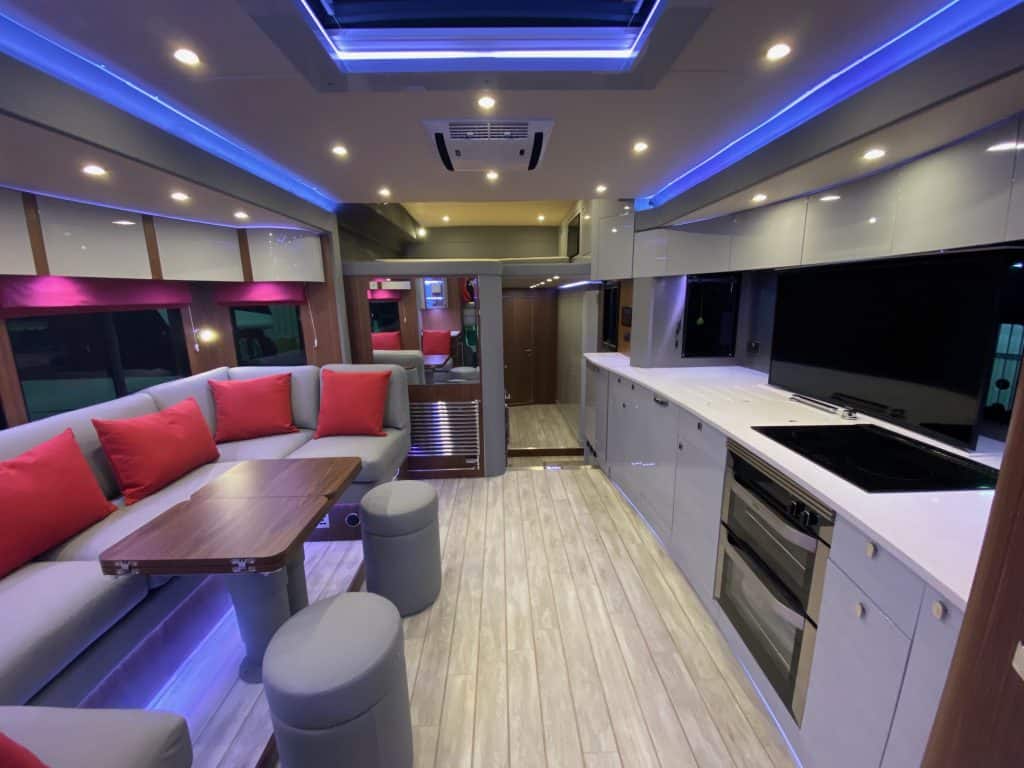 In keeping with Oakley's principles of coach building, the Supremacy features an entirely hand crafted aluminium structure. Manufactured at Oakley's British production facility, in Hertfordshire England. The Horse area is equally as important as the living area, with the extra height 4m build gives further space and ventilation, allowing your horses to be just as comfortable at the end of the journey as you are.
Your horses safety and comfort is paramount to us. We fabricate and manufacture each partition and head divider by hand at our fabrication factory in Norfolk. Roof vents, extractor fans, large opening facilities to each and every window are standard, as is the insulated rubber matting mounted upon the aluminium planked flooring. The powerful LED lighting and calming LED night lighting, along with the sealed drainage and temperature monitoring with every Supremacy horsebox completes the standard high specification, giving you the option also to travel abroad.
The Supremacy chassis is fitted with all round air suspension to provide unrivalled comfort whilst on the road. The preferred choice of either Volvo or Scania chassis are now even more luxurious and comfortable enabling the Supremacy to be effortless to drive, refined and the ultimate HGV driving pleasure.
A PERFECT BLEND OF DESIGN, TECHNOLOGY, STYLE, CRAFTSMANSHIP & ATTENTION TO DETAIL.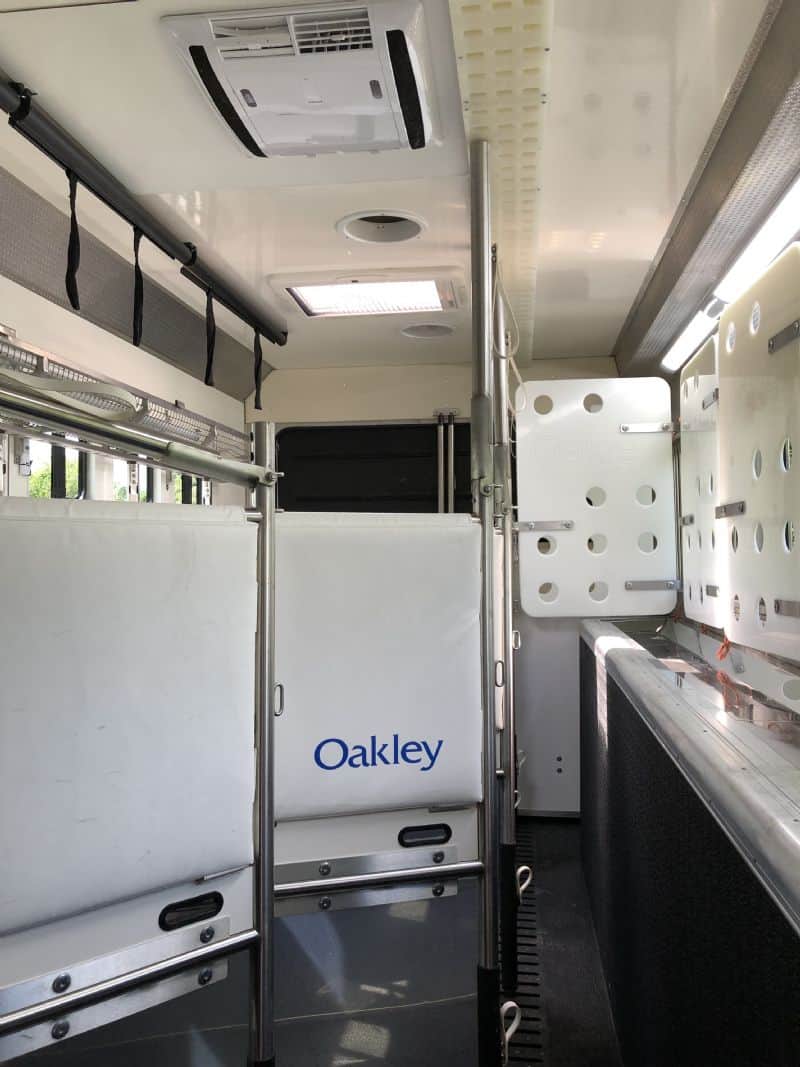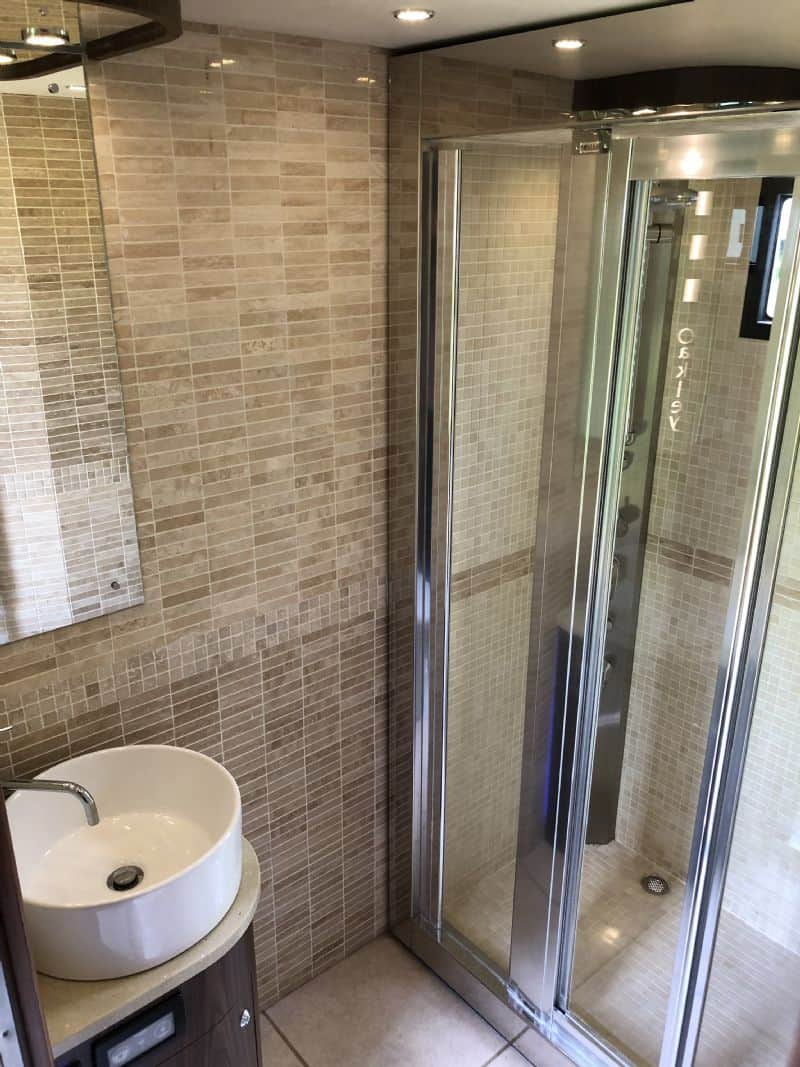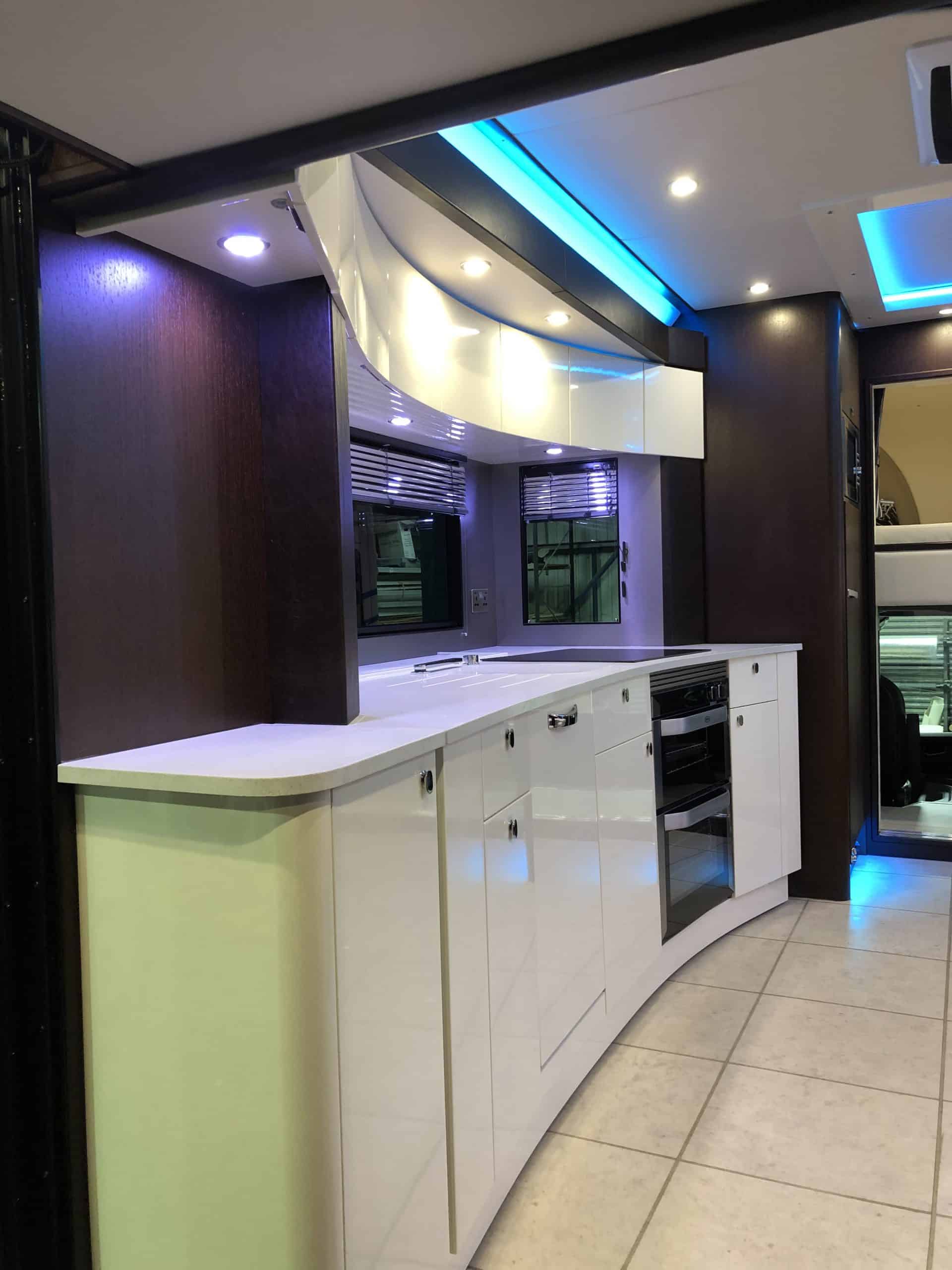 General specification
Oakley Supremacy 4-7 stall horsebox.
Luxury open plan 4-7 berth living accommodation.
Separate shower/ WC area.
Optional slide-out features (living x1-2 / hall / shower / roof).
Built upon a new chassis of customers choice to Oakley Specification  (Scania, Iveco, DAF, Mercedes and Volvo being the most popular choices)
18-26,000kg G.V.W.
Flush fitting glass frameless opening window design.
Storage lockers throughout
Under-floor storage with incorporated saddle locker.
Electrically operated fold away entrance steps with ignition override feature.
Fully adjustable / removable stainless steel partitioning.
Independent electrical charging system with 240v mains hook up.
High gloss Oakley specification bespoke paintwork.
LED lighting throughout.
Tilt cab.
On board 240v generation.
Chassis
Mounted upon a new unregistered chassis.
Semi-automatic, manual or automatic options.
Full air suspension.
2-4 Cab seats upholstered to match living area.
Electric bed system to 4 seater cab.
"Oakley Technology Pack System" touch screen infotainment system, to include HGV satellite navigation, horse and reversing cameras, DAB radio, Apple Play, Bluetooth mobile phone connection and USB media connection.
Air conditioning.
Electric operated and heated mirrors.
Cruise control.
Lane Departure warning system.
LED Daytime running lights.
Integral with living accommodation.
Tilt cab facility.
Towing facilities.
Horse area
Full anti-rot horse area.
3-6 Stainless steel fully adjustable padded partitions.
Herringbone or forward / rearward facing stall setup.
3-6 head dividers with viewing holes.
Stainless steel fittings throughout.
Oakley rubber matting to ramp(s) with integrated rubber slats.
Oakley heavy duty one-piece cushioned, sealed rubber matting to floor.
Protective kickboards throughout.
Securing guide doors with individual poles and capping.
Retaining catch to hold partitions open when loading.
Electric opening roof vents.
2-way high capacity extraction fans
Full DEFRA* and EUROTUNNEL certification.
Air conditioning options
Solarium options
Horse tie up and haynet rings.
Stainless steel blanket rack with front blind/ restraint.
Blue LED travel lights.
Horse watering / feed system.
High capacity water tank(s) with drainage tap.
Wash down hose with cold supply.
Living area
Walnut wood panelled furniture, units and wall panels.
Bespoke high gloss painted units.
Optional Electro-Hydraulic slide-out sections to increase internal living / shower / hall / roof area space.
Upholstered seating in choice of cotton, draylon fabrics or leather.
Amtico wood effect flooring throughout living area.
New generation Oakley 'Touch Screen Control / Information Panel.'
Keypad entry system to external door.
Large curved slimeline LCD TV.
Laminate or Quartz granite worktop and table top.
Drop-in sink with cover top.
Full kitchen area with oven, grill and hob.
Microwave oven combination
Optional drinks cabinet with Perspex front and shelving.
Large capacity refrigerator with freezer compartment above.
Exterior Fridge / Freezer drawer.
Cooking / BBQ facilities to exterior
Infortainment facilities to exterior
Dishwasher / Washing machine / Tumble dryer options
Sony Playstation 4 games console /DVD Blu-ray player.
DVD/CD Surround sound speaker system.
Large wardrobe and multiple storage units.
Double berth bed above cab.
Sleeps 4-8 people.
LED ambient lighting throughout and LED reading lights.
Large fully tiled shower area with separate shower cubicle, toilet and chrome radiator.
Flush toilet and vanity unit.
Continuous high capacity Hot and Cold running water.
High capacity ducted air conditioning
Radiator / underfloor heating system.
Settle seat to entrance area
Large Panoramic roof window
On-board Wi-Fi
Solar panel charging.
Winter Anti Frost system
Note:  Some of the above specification are optional items available at extra cost
Enquire About this Vehicle